Welcome to the Symphony Orchestr from Torrevieja!
la orquesta sinfónica de Torrevieja les da la bienvenida!
Herzlich willkommen bei dem Sinfonieorchester von Torrevieja!
Velkommen til Torrevieja symfoniorkester!
L'Orchestre Symphonique de Torrevieja vous souhaite la bienvenue!
Van harte welkome bij het Symfonieorkest van Torrevieja!
Добро пожаловать от имени Симфонического Оркестра города Торревьеха!  
SPONSORS:

 Know our Sponsors
INFORMATION
Our office will be open on Monday 24th January 2022 from 10am till 1pm for tickets sale, and membership cards for all concerts of the season 2021-22 .
Box office ticket sales on Wednesdays from 11:00 a.m. to 2:00 p.m. at the Virgen del Carmen Cultural Center.
Still NO INTERNET SALE. We are doing our very best to solve this situation. We apologise for the inconvenience.
INTERNATIONAL AUDITORIUM OF TORREVIEJA "in search of romance" Concert! (third of the season)
read more
Next Concerts Chamber Group of the OST:
Schedule change!!!
On Friday 28 January 2022 at 7PM at small room from the Int. Auditorium Torrevieja.
Works: Trios by W.A.Mozart and J.Haydn.
Free admission until full capacity is reached.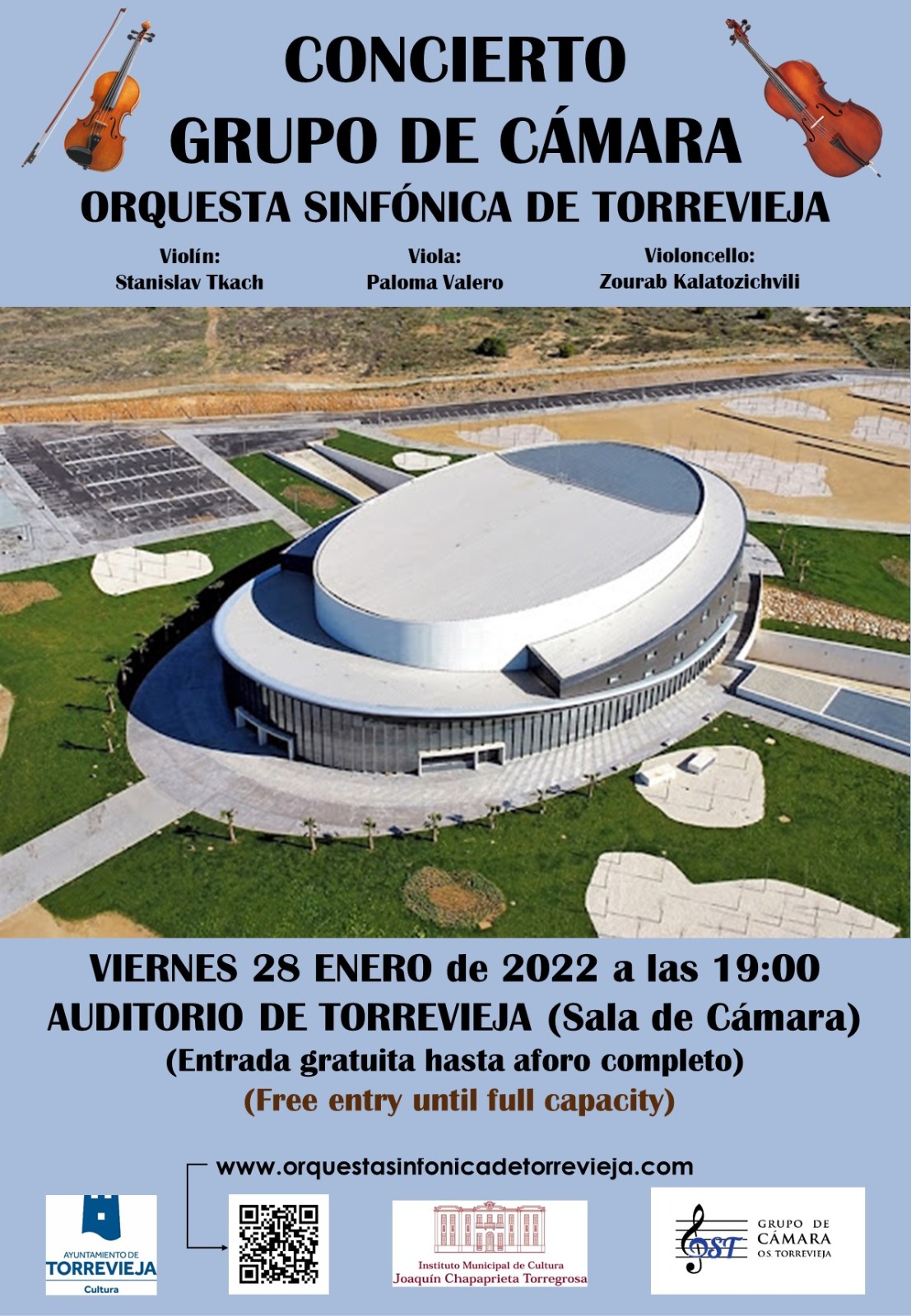 Next Youth Concerts of the OST:
"Soloist" Concert On Sunday 27th Februari 2022 at 6PM at the Auditorium Int Torrevieja..
Free entrance.
links that may interest you.
BUS SCHEDULE (Concert days at 7pm))
Torrevieja – Auditorium Internacional 
First Departure:
Port stop (5:45PM)
Hotel Fontana (5:50PM.)
C/ Apolo – Petrol Station BP (5:55PM.)
Second Departure:
Port stop(6:15PM)
Hotel Fontana (6:20PM.)
C/ Apolo – Petrol Station BP (6:25PM.)
Return :
Ofice OST (C/ Blasco Ibáñez, 23 – Torrevieja) – Mondays 10AM – 1PM.
Cultural Center Virgen del Carmen – Wednesdays de 11AM – 2PM.
Phone: 628 810 467
More than a decade promoting musical culture in Torrevieja
We have for each of our concerts a cast of great musicians from our town and from towns near Torrevieja both in the province of Alicante and Murcia. In addition, in our concerts we usually have the talent of soloists of international stature.
Treating with the best musicians in our area and in the world.
For each of our concerts, we have at our disposal a cast of great musicians, from our town,  towns near Torrevieja, and from the province of Alicante and Murcia. In addition, our concerts usually feature the talents of soloists of international stature.
José Francisco Sánchez (Director)
José Francisco Sánchez is a Conductor-composer and Spanish Oboist of great experience and sensitivity, with great strength and charisma on stage and with a feeling so special that his interpretation of the music makes each concert unique. On numerous occasions he has filled the auditoria in which he has performed, and received excellent reviews…
Stanislv Tkach (Concertmaster)
Violinist Stanislav Tkach, Higher Degree of Violin. (Moscow Higher Conservatory) He was born in 1971 in the city of Groznyi, Russia. He began his violin musical studies at the age of five in his hometown. In 1986 he joined the National Conservatory of Groznyi, later moving to the Tchaikovsky National Conservatory in Moscow…
Subscriptions for the new 2021/2022 season are now available. As a subscriber to the Torrevieja Symphony Orchestra you will have access to all the concerts of the program and you will be able to benefit from substantial discounts. Prices 80€ or 100€ (depending on Sector)
We are very pleased to present you our program of the new season 2021-2022 of the Torrevieja Symphony Orchestra. It consists of 5 concerts in which we will play works by composers such as Mozart, Haydn, Beethoven, etc.
Tickets for the concerts can be purchased at our office located at Calle Blasco Ibáñez, 23 in Torrevieja or through the internet by accessing the BACANTIX platform of the Torrevieja International Auditorium.